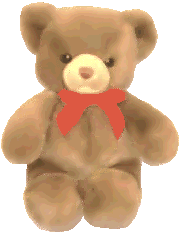 XTeddy is a cuddly teddy bear for your X Windows desktop.
His father is Stefan Gustavson.

Normally, xteddy just sits around doing nothing. After all, that's what teddy bears are for. Look at him, talk to him, place heavy windows on top of him, zap him around until he becomes dizzy, do what you like; he will always be your true (albeit virtual) friend.

Debian is shipped with XTeddy version 2.0.1 were the teddy got some funny friends. You can easily add your own pixmaps in any graphics format ImLib can load.

For further information visit XTeddy's homepage

Get the XTeddy-package from Debian mirror.
---
Questions to tille@debian.org